We admit that Easyblognetworks is a good PBN platform in the past. However, it's obvious that they have limitation on several things such as no control panel, plugin blacklisted/limited, hard to manage files and databases. We have clients regularly migrate their PBN from EBN (Easyblognetworks) to our Platform. They migrate for a various reason. Recently, we had one of their clients migrate about 4000 blogs to us which is the big lot of migration that we take around 1 week to complete (As we offer full featured free-migration – Download backup, restore backup, change Nameserver and all related tasks are done by us). Imagine that it's a lot of pain to migrate 4000 blogs by yourself. With us, our client just gives us the login detail for EBN and we will do the rest. Migration is seamlessly as we will make sure everything is fine before changing nameserver to our server.
Why you need to move from EBN to us.
They blacklisted 140 wordpress plugins that you cannot use.
Every WordPress blog that you added in EBN system have their plugin installed mandatory. You can check by download your backup file inside EBN dashboard and see in folder.
wp-content/mu-plugins/index.php 
This file manages several tasks such as limited server resource, SSL related things, backend-login, and deactivated all plugins that are in blacklisted. Currently, 140 blacklisted plugins as I counted including major common plugins like wordfence, google-sitemap-generator, backupwordpress, 404-redirection.
At MultipleCloud, you can install any plugins you would like. There is no such restriction.
No control panel – so it's hard to edit file and manage database.
As a EBN user like you, you may encounter an inconvenience once or more when you need to edit some record in database directly or edit some files.
You need to create child-theme in order to edit your theme.
You need to install more plugin if you need to place some verification code (ie., place Google tag or stat counter tag)
You need to install plugins to edit .htaccess file.
It's end up with more tasks when you just need to do a simple thing.
At MultipleCloud, we provide full control panel for each account you created, you will have file manager, ftp account, phpMyAdmin to manage your files and databases. You can see more information for how to use our control panel
Only 20 hosting providers are used for 1000 blogs plan.
Ok, let's do some basic calculation – 1000 blogs divided 20 hosting providers – So each 50 blogs have used the same hosting provider. It's not a good sign in our opinion. The main target of every PBN hosting should offer more diverse location and hosting provider as much as possible. This way to ensure that your PBN hosting profile looks the most natural. The picture below is the list of 20 different hosting providers that EBN uses among 1000 blogs.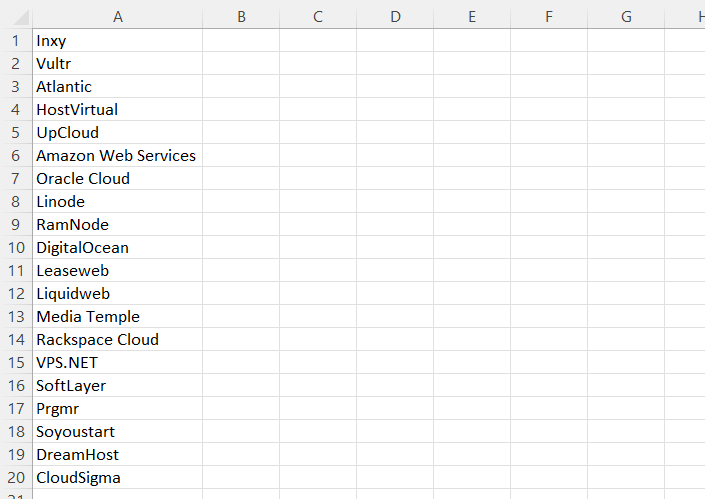 At Multiplecloud, as of 6 Mar, 2023, we offer total of 123 cloud and hosting providers around the world which you can choose location on your own. Do you see the big difference? 😊
Save at least 40% from what you currently pay
Back to our 4000 blogs' client that we have migrated to our platform. They have 1000 blogs plan x 4. The cost that they used to pay each month is.
$1817.93 x 4 = $7271.72 per month including 7% VAT 
This client try to save cost as this is the way too much for them, they first contact EBN to combine 1000blogs x 4 to 4000 blogs single account with negotiable price but it's seems not possible at EBN. So, they approach us to see our offer. We offer them 25% off recurring for 4000 blogs plan and will offer you too!
$6000 with 25% discounted = $4500 per month including VAT
(See our pricing here)
It's insanely almost 40% reduced cost!!! And our client is really happy with the new price. You can compare our pricing with 25% off with your current cost too see how much you can save each month.
What they claim about the lowest deindex rate may not true
Based on one of our client that have 2 x 1000 blogs plan which have similar setup for each blogs. Please see deindex rate of 2 accounts in the picture.


All 2000 blogs have similar setup. You can see that the first account has about 3% which is very good, but another has 29.8% deindex rate which is much difference. We know that deindex may come form any other reason than hosting. However, we just point you that not all case for EBN user that have low deindex rate like they claimed.
What MultipleCloud can offer you?
At Easyblognetworks, you get hosting account on cloud servers, you will get the same feature with MultipleCloud but much more diverse location and count of cloud hosting providers.
At Easyblognetworks, you get few DNS service that will use for your blog, you will get this feature at MultipleCloud as well but again more diverse. As we have 17 External DNS hosting that can be used for setup.
See comparison table what you can get more by paying less!
| | | |
| --- | --- | --- |
| | MultipleCloud | Easyblognetworks |
| Number of hosting providers | 123 | 20 |
| Server location | Worldwide | Mainly in just USA |
| Have DNS hosting | Yes, 17 providers | Only 10 providers |
| Niche accepted | All | Some niche disallowed |
| Disk space | 2048MB (2GB) | only 750MB |
| Bandwidth | 10GB | N/A |
| CMS supported | All types of CMS | only WordPress |
| SSL supported | Yes | Yes |
| Plugin restriction | No | Yes, 140 plugins blacklisted |
| Lowest price per blog | $1.125 (25% discounted) | $1.819 (included VAT) |
At this point, you may worry about migration pain, right? Will my theme broken, will user/password changed, is there any downtime?
The migration process is just like you pack all thing in the box and ship it to other location. We download the files and export database from EBN. We upload the same files and restore the same database to MultipleCloud platform. So your blog will be the same, nothing changed.
Good news, we do the full-featured FREE migration which mean you just give us detail login to EBN and we will do the rest even change Nameserver!
25% OFF recurring coupon "BYEEBN"
We offer you a 25% OFF recurring if you decide to migrate to our service. Please click button below and coupon will apply to an order automatically.